Are you having the urge to splurge? That feeling of indulging yourself is evoking you to spend, spend, and spend. Denying yourself all the pleasures you want could have regrettable and costly financial mistakes. Can finding a balance allow you to have it all and stay on track? Perhaps, with a little help from Young Finance 101. Let's get to class!
Answer these questions: How will this splurge impact your life? Does it help you learn a craft, enhance your skills, or build memories? Will you regret your decision to spend the money afterward? Splurging and spending money that you do not have or have planned on spending isn't good. Young Finance 101 doesn't want you mopping around because you can't buy what you want. No one said that just because you financially can't buy it now, does not mean that one day you won't be able to afford to purchase it. Splurging at times can be regretful; however, splurging on things that build memories like traveling or donating to those that need it more than you are more rewarding. Experiences can bring you joy. If you chose to live in the moment and take photos and videos these can be more precious than having a physical possession like a souvenir or clothing that will one day fade.
Looking at educational purposes, if you want to expand your knowledge and splurge on books, lessons, and equipment then look for ways that you can budget spending the extra cash. Most of the time educational expenses, depending on what you bought, can be a tax write-off. Furthering your knowledge and skill that can bring in more money for your addiction to shop like freelancing your skills is spending that will ultimately pay itself back on top of the fact that you learned a skill that even though you are freelancing could lead to a better job that pays more. Freelancing gigs are always rewarding not just because you are making more money, but because it builds your resume, expands your knowledge, builds rapport, and helps you with networking. YF101 does recommend that you set aside some of the additional cash for a rainy day because we all have those like the car getting a flat tire, a plumbing issue at home, or even a loss of employment.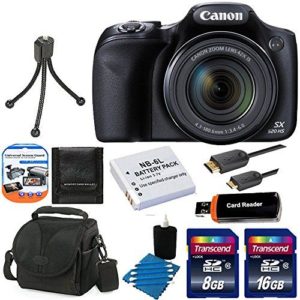 Canon PowerShot SX530 Digital Camera
Do you consider yourself an impulsive buyer? The kind of person that has money burning a hole in their pocket and you are just dying to spend it. Don't buy something in the heat of the moment because it is on sale. That is just asking for more financial trouble. With the holiday season here, there are going to be a lot of great deals out there especially during Black Friday. Don't start getting a taste for something you never thought about owning because you saw it on the weekly store ad and you just have to buy it. To save you the embarrassment of realizing that you don't have money left over after your shopping splurge because you probably went a little crazy with the credit cards, make a list of the items around your house that you absolutely need. What are the items that would help make your life more functional? Then buy or save up for the things that you really need that will improve your lifestyle or wellbeing.
It might be time to do an inventory checklist and declutter. A lot of times we forget that we already purchased some items and buy them again. This sometimes happens more than once. We are all guilty of this even here at Young Finance 101. Go through your home room-by-room and look at the items that you have. If you have not used the item in more than a year then it is time to donate, sell, give away or trash it. For items that seem to come year-around that you might stock up on, like school supplies for your kids, organize what you have and place all unused items in a clear bin so that when the new semester comes around you have the items they need rather than going out again and purchasing the same items only to hoard them. Make a list of everything you have, right down to the paperclips, so you know what you are short on so that when the new school year gets here you can buy what you need.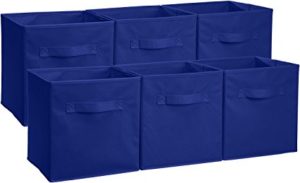 Foldable Storage Cubes – 6-Pack
A great way to make money after decluttering your home is to sell items that you no longer have a use for like kitchenware, clothing, electronics, books, etc. Think about selling those items online. There are various websites like eBay, Amazon, Craigslist, and more where you can make some additional cash to help with those days you just have to buy something.
***Note***A good rule to live by before you buy anything is… out with the old and in with the new. Once you start going through your home and realizing how much stuff you actually have you will probably be rethinking your spending habits.
Have you ever heard, "can't buy wine with beer money?" We are talking about the expensive wine, not the cheap wine in the box, although there are some box wines that do taste good…so we hear! The lesson here is to be responsible with your money. Just because you can afford to buy it does not mean that you should. Many times, we fall victim to those great deals like getting a new car that is fully-loaded that we are blind to see how it will impact us financially. Money is supposed to give us the support we need to buy the essentials we need to live and if there is money left over after we have taken care of our personal business then achieving a healthy financial happiness through planning could put you on the right track. Making bad financial decisions could hold you back for an even bigger purchase like closing on your first home. Let's face it, no one wants to be in credit card debt their whole life.
We hope these suggestions helped you with your splurging addiction. If you have any suggestions for other viewers reading this article or ways to help, please leave a comment. As always class is in session!