With the second most travel season being the holidays it's time to pack your bags again for the second part of Young Finance 101's travel tips.
Happy holidays!!! Yes, it is officially here meaning the airports are packed and the travelers are probably either in a holly jolly mood or extremely frustrated with the delays and stress of the holidays trying to get from point A to point B. It is estimated that 54 Million people are expected to travel this week. 48 Million of those traveling will be hitting the roads. So, start your engines because Young Finance 101 wants to help you with how to be more prepared for your trip before you jet. So, let's get ready to take off.
Hopefully, you knew that you would be taking a vacation ahead of time. With the holiday season here, the prices for air travel increase. Thanksgiving is only days away, but you can still plan for the upcoming holiday travel for Christmas, New Year's, and that special give me some love and affection holiday – Valentine's Day getaway, or next year's holiday travel. Create a savings account that is only for traveling expenses including buying airline tickets, lodging, food, and shopping money. Check out Charles Schwab Bank. No fees when you travel internationally, plus most of their accounts have a no charge fee.
While we are on the topic of banks, always withdrawal money; never exchange it. Charles Schwab does not charge any fees if you withdraw money from an ATM. The ATM company will charge you money for withdrawing from their machines as a convenience fee, but Charles Schwab gives the money right back. Kind of nice, right!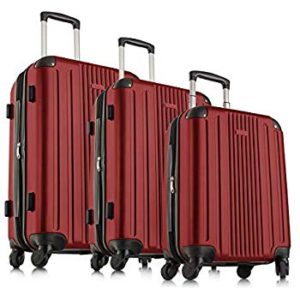 We all sacrifice our paychecks to buy groceries, gas, pay for utilities, and the list goes on. Instead of spending cash opt to make your purchases and pay your bills with a credit card. If you have a credit card where you can rack up points for airlines miles or make a percentage of money back when you shop you're winning. Points and cash back add up. You can score a free flight, get perks to use airport lounges, or use the cash back towards buying the tickets to fly to your destination. Also, look at deals when you use your credit card to book your lodging accommodations. Some credit card companies offer deals if you use their card for your hotel stays.
Look into purchasing a Priority Pass at the airport if you are a frequent traveler. It can get you into over 850 airport lounges around the nation. The annual price starts at $99. Might be worth checking out to have some comfort especially if you have a layover or a delayed flight.
It is going to be a mess with wall-to-wall people everywhere trying to get to their destination, shopping for those Black Friday deals, or ringing in the holidays. Make sure that you are keeping your possessions close while out-and-about by having a closed (zipper-like) purse or bag that is small and can be placed over the shoulder. This way, with the crowd you won't have to worry about someone running off with your belonging. Men, it is probably best to not put your wallet in the back of your pants. Instead, place your wallet in your jacket pocket in the front. This way it stays close to your heart.
Can't wait until you sink your teeth into Thanksgiving dinner? Well, you might have to for the long travel haul. Pack snacks in your carry-on or if you are taking the high-road to get to your destination, pack sandwiches, drinks, and snacks in the car so that you have fewer stops and stay on track with your schedule.
If you are looking to book for other holidays coming up, then save some money by having a layover if you have time and don't need to get to your destination right away. Also, compare flight plans on different days of the week to see if traveling is cheaper. Some of the best days to travel on are on a Tuesday and a Wednesday. By the way, no one said that you had to travel by air. Look into savings hundreds of dollars traveling by bus or train.
When you arrive at your destination opt out of paying to rent a vehicle. Don't even think about Ubering everywhere. Instead, take in the city that you are traveling too. Now, this only applies if you have never been to the city and are staying in an area where most of the attractions are near your hotel. Stroll around and look at the architecture and meet the locals.
Speaking of the locals, eat like one. Don't stay in and eat leftovers, hotel room service, or at expensive cafes. Experience new cuisines. Before you start making plans to order your food, check to see if the restaurant has an app or if there are any that can be used at places that you are eating that have deals to save money on your meal. If eating out is not your thing and you are staying at accommodations that have a kitchen then cook your meals. You will save a ton of money by making sandwiches, pasta, you name it. Use the money that you would have spent on food for activities and sightseeing adventures. Check out free days at area attractions and museums. Most major cities have days or hours of the day where guest can tour their facility for free.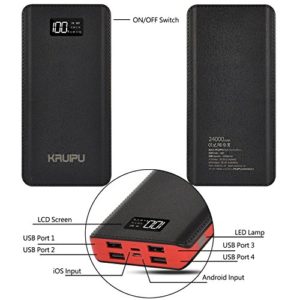 Power Bank 24000mAh Portable Charger Battery Pack 4 Output Ports Huge Capacity Backup Battery Compatible Android Phone and Other Smart Phone
Another great way to save some dough is to stay with relatives or friends while you are traveling away from home. Just don't be a couch potato. Be a grateful guest and show your host how much you care by doing the dishes, helping with the chores, or even make them a meal to show your appreciation.
Lastly, it's the holidays and whether you are having fun with family and friends, exploring a new city this holiday season, or just planning your next vacation remember to not try and cram everything into one visit. Don't try to go everywhere on your list. Stop and take in the moment and enjoy the experience. Take photos and video so that you have those memories to look back on.
We hope that these suggestions help with planning your holiday travel or next vacation. Do you have any suggestions or helpful tips for our readers? Please leave a comment below. As always, remember at Young Finance 101 class is always in session.
Happy travels!!!