School might be out for the Summer, but it's not forever. It's just around the corner for students, faculty, staff and parents to kiss the summertime goodbye and say hello to another school year. Whether or not you enjoy learning or teaching, Young Finance 101 wants to school you on some back-to-school deals for preschoolers to those heading off to college because class is always in session!
If you want to make sure that you don't overspend then make a shopping list. Only get the items that you really need. This way, you can avoid buying spontaneous purchases. Write down the exact quantity that you need to buy. If you need 10 folders and 2 binders, buy 10 folders and 2 binders.  Also, to save time, visit the school's website to print that year's school supplies list. Some stores also offer a printed copy of school list from schools in the area. Those lists are typically located where the school supplies are in the store.
Textbooks, you are going to need them but you don't need to purchase them brand new unless they are workbooks. Look into buying school books that are gently used. Renting is another option along with digitality downloading your coursework. At the end of the school year look into reselling your textbooks and make some money back. You can resell textbooks on various websites including used textbooks on Amazon.com.
Shop the penny deals. So many stores have penny sales on items for back-to-school. This helps save so much especially if you have several children that you need to purchase supplies for. Make sure to read the small print on the ads because there might be a limited amount per transaction. If that is the case take a friend with you to help buy supplies or the kiddos and give them each the cash to pay for their own supplies.
Time for a dollar store run. Don't break the bank trying to buy brand named items. Instead head over to your nearest dollar store and buy what you need. It might not be the hottest trends in school supply fashion like a unicorn with glitter on a binder, but it will hold schoolwork. If the little ones really want to be creative buy paper textbook covers or reuse brown paper grocery bags. Cover the textbooks with the paper bags or solid textbook covers and let the kids design their own covers. Make sure somewhere on the cover is the class that book will be used in i.e. math or science.
Don't throw it out. Re-purpose it. DIY projects are always fun. Taking something old and making it new again is rewarding, to say the least. That rusty old table that has been sitting in the garage only needs some good elbow grease, sanding and paint and it will be as good as new. If you have teenagers or if you are one and you need a bigger desk for your work-space this is ideal. Think outside the box and get creative. Look into buying chalk paint. You'll thank us!
Kids grow up fast which means they grow out of their clothes. Before you utter the words "let's head to the mall" check your local thrift, consignment and bargain stores like TJMaxx and Ross. If you want to save and not have to spend a dime swap clothes with friends children. More than likely the clothes were going to be donated anyway. This way it saves you the trip.
Buy items that can last for years. Backpacks are going to tear up because the books are going to be heavy especially if every class has homework. Opt for a rolling backpack. Not all schools allow rolling backpacks so make sure before you buy one you check the school's policy. Plus, having a rolling backpack means less stress and pressure on the shoulders and back if carrying it. Meaning there won't be a necessary trip to the doctor's office because of back and shoulder pain.
Do an inventory count before you head out to shop. Some items you might already have like extra glue and notebook paper that was not used last school year or even a binder that is still functional. Use what you already have. Don't add more to the clutter.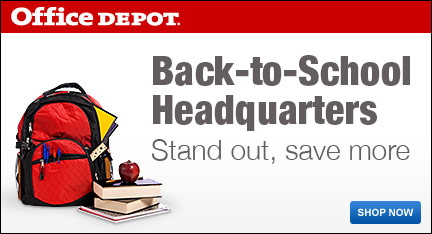 Extracurricular activities are always fun, but not the sticker price. Instruments and sports equipment can get expensive. You don't want to say no to a sad face wanting to learn something new or participating in events because you can't afford it, do you? Buy secondhand or rent. Musical instruments are not cheap and depending on which instrument it is the price can be overwhelming. Shop around and save half off or more. There are plenty of stores that sell gently used or allow people to rent instruments and sporting goods. There are also online retail stores that sell secondhand.
Get everything you need during Tax-Free Weekend. School supplies can add up, so why not save a little and shop for what you or the kiddos need when you don't have to pay taxes on your purchases. Each state is different so double-check to see when your state will have the event. Some states start on a Friday and end that Sunday, while others only do a 2-day sale. Policies vary too. What might be on the school supply list might not be approved to purchased tax free like Ziploc bags. Back-to-school clothing typically can not exceed more than $100.00 and not all electronics fall under tax-free. Electronic purchases have to be $1,500.00 or less to receive the savings. Make sure to check the store's return policy on electronics before you make that big purchase.
Make some money while you shop. Ever heard of Ebates? Ebates gives you money when you shop through their website and click to purchase items from stores that you shop online regularly like Target and Walmart. You earn cash back with every qualified purchase and the money will be directly deposited into your bank account or PayPal. Here is a bonus… if you sign-up to use Ebates you'll receive $10. Not bad!
Want instant notifications on deals at your favorite retailers? Then follow them on social media or sign-up for their email notifications. Know what is on sale before the ad comes out. Some stores will even have coupons that you can download to save while in-store or even free shipping if you use their promo code.
Instead of buying lunch at school or forking over cash so the little ones can eat, pack a lunch. Visit wholesale stores like Costco and Sam's Club and buy in bulk. Chips, juices, sandwich meat, and heart-healthy snacks are inexpensive if you think about how much each one cost if purchased separately.
We hope these shopping strategies start your school year off in the right direction and that you are better prepared. For more tips and tricks to saving money click below to subscribe to Young Finance 101 email list. Don't forget, class is always in session!